Bakers Funeral Services take pride in supporting our local community - sometimes through sponsorship or even offering a helping hand. If you would like Bakers Funeral Services to sponsor your activity or an event please do not hesitate to contact email enq@bakersfunerals.co.uk
Bakers Funerals sponsor Danbury 1st Scouts Fireworks event 2019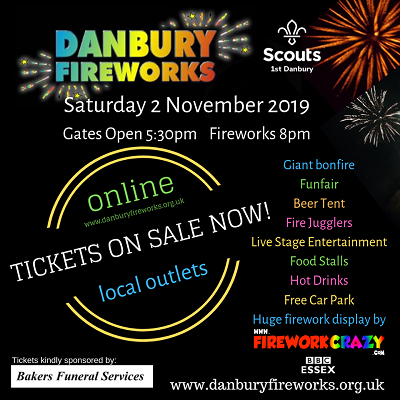 Bakers Funeral Services are proud to sponsor Danbury Fireworks 2019, which will take place Saturday 2nd November.
Danbury Fireworks is an annual Firework Display organised and run by around 200 volunteers. Set up 51 years ago, with a group of supporters together with families of 1st Danbury Scout Group and a £20 box of fireworks to raise some money for the group, the Firework display now attracts hundreds of people from the area and still raises money for the 1st Danbury Scout Group.
The money raised by the Firework display each year goes a long way to financing the expenditure of running the 1st Danbury Scout Group including the recently built new scout headquarters.
Tickets for are now on sale from local outlets including online at: www.danburyfireworks.org.uk
Tickets bought in advance: Adults £7 - Child 13 & under £3
Tickets bought on the gate: Adults £8 - Child 13 & under £4
Unaccompanied 13 year's & under will be charged as an Adult
Under 2's are free
Bakers become main sponsor for Danbury Society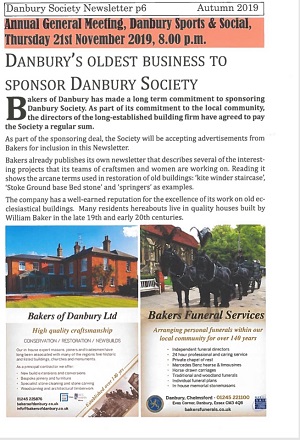 We are proud to become the main sponsor for Danbury Society (2019 to 2020). Danbury Society is a village Conservation Society which was set up over 50 years ago. The Society works to ensure that changes within the village are undertaken with sensitivity to the character of Danbury.
Danbury Society also works to protect the natural beauty of the local landscape and to promote its maintenance as well as involve residents in interests and pursuits to enrich village life. The Society publishes three newsletters a year. The most recent newsletter talks about the traffic which passes through our village daily and the noise, dirt and air pollution that is close to or exceeds the legal limit in parts of the village. The subscription to the newsletter is just £2 a year per household. If you would like to subscribe to the newsletter visit www.danburysociety.org.uk
As part of its charitable activities, Danbury Society makes grants to village activities and organisations of all kinds. Since its formation in 1967, the Society has donated thousands of pounds ranging from improvements to Eves Corner, refurbishing the Village Hall, restoration of the Grade 1 listed Parish Church to helping out with youth organisations.
2019 Flower Festival at St John's Parish Church in Danbury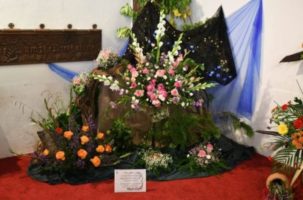 Bakers Funeral Services were proud to sponsor the Flower Festival held at St John's Parish Church in Danbury from Friday 6th to Monday 9th September 2019. The festival offered visitors an opportunity to enjoy the talents of the Church flower arrangers led by Suzy Gaywood, multi medallist winner at Chelsea Flower Show. Reverend Jacqui Jones wrote;
"I should like to thank you, on behalf of the Parish Church of St John the Baptist, Danbury for your generous sponsorship donation. We hope to raise funds to assist the maintenance of our delightful heritage church in the heart of Danbury village."
Bakers Funerals sponsor Purleigh Garden Party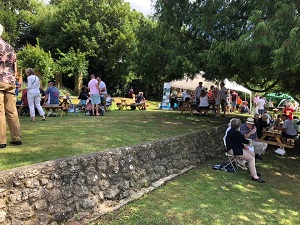 Bakers Funeral Services were proud to sponsor the Purleigh Garden Party, which took place on Saturday 20th July 2019, in the beautiful grounds of The Old Rectory.
This year's Garden Party was in incredible community event, seeing over 100 local people in attendance, helping to raise funds towards the new Purleigh Playground, whilst enjoying a fantastic afternoon of live music and delicious food and drink!
Danbury and Little Baddow Open Gardens 2019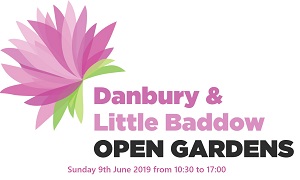 Bakers Funeral Services were proud to sponsor the Danbury and Little Baddow Open Gardens 2019. Danbury and Little Baddow was almost buzzing for the day with lots of people walking on foot and catching the hop-on-hop-off bus service to visit the 22 gardens open across the two villages. There were gardens open with activities to keep the children entertained such as a train ride, as well as plant sales and delicious refreshments available. All proceeds raised went to Farleigh Hospice.