Natural, Woodland or Green Burials are becoming more popular as an alternative to traditional churchyard or cemetery burials.
They offer a chance to be interred in a natural environment of living landscape, helping to create new eco-systems with the planting of trees and shrubs, promoting the natural wildlife.
Coffins are bio-degradable and made from sustainable sources, such as willow, cardboard, bamboo, wicker, and MDF/chipboard. Cremated remains can be scattered or interred within a grave, again, a sustainable source urn can be supplied.
Funeral services, whether religious or not, can take place at the graveside or before and after interment.
Some burial grounds allow a wooden or stone marker to be placed on the grave. Other burial grounds protect their unspoilt landscapes, by forbidding markers or personalisation of any type.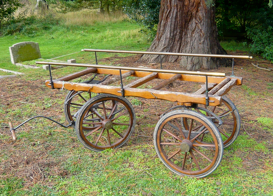 Hand-bier made by Dottridge Brothers of London in 1901
at the cost of £19-15s-0d. It was donated by ourselves
at the opening of the Woodland Glades natural burial area
at Maldon Cemetery and is still used today.
Please do not hesitate to call us on 01245 221100 to discuss your options in more detail.