Bakers Funeral Services, along with its sister company
A.G Smith Funeral Directors
(based in Maldon and Southminster, Essex) are independent Funeral Directors. As independent Funeral Directors, we enjoy more flexibility to enable us to personalise your funeral and offer competitive funeral packages.
Having been based on the same site in Danbury, Chelmsford over 140 years, we benefit from having our own dedicated private chapel of rest and arranging room.
As members of the National Association of Funeral Directors (NAFD) and the National Society of Allied and Independent Funeral Directors (SAIF), we provide a professional service to help arrange the perfect tribute for your loved one.
Our team has many years' experience of arranging personal funerals within our local community and will always provide impartial caring advice at the time you most need it. We are always at the end of the phone, please do not hesitate to all us on 01245 221100.
"Together we will arrange a perfect tribute for your loved one."
Bakers Funeral Services take pride in supporting the local community – sometimes through projects we set up, or simply through sponsorship and providing a helping hand. You can keep up-to-date with these projects and activities by visiting our Community page and by liking our Facebook page!
To find out more about our sister company A.G Smith Funeral Directors visit www.agsmithfunerals.co.uk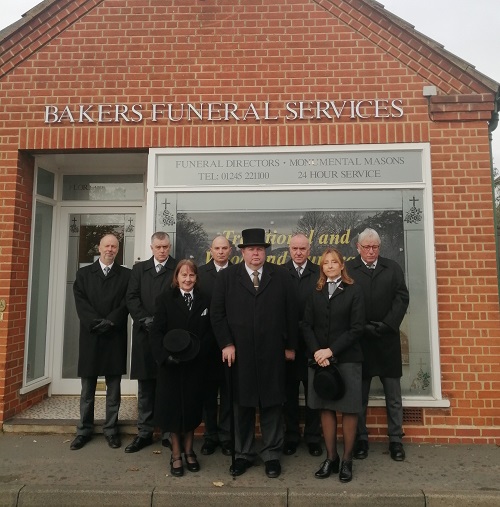 Testimonials
Revd Canon Crawford
I am a retired Vicar with 33 years' experience of working with Funeral Directors. On 6th February I took a funeral at Chelmsford Crematorium. Wendy Bingley was your staff member who made all the necessary arrangements. I was a very impressed with how she introduced herself when she telephoned, and her sensitivity when liaising with the family, whom I have known for some 20 years. Wendy's thoughtfulness and efficiency in keeping me informed at every stage was much appreciated. All the arrangements were perfect.
Mrs M – Boreham, Chelmsford
I wanted to let you know how much we appreciated all of your assistance, patience and hand holding. You were so professional. The day, if you can use the word 'lovely' was indeed lovely.  Everything ran so smoothly and everyone we came into contact with at Bakers Funeral Services were amazing. 
Mrs M – Little Baddow
I would like to thank the staff of Bakers in Danbury for their excellent service, sensitivity and compassion at a difficult time for us. I will certainly recommend Bakers Funeral Services to those in need of funeral arrangements.
Mrs S – Hatfield Peveral
Thank you so much for all your help in this past year with all the things you have done with Mum's funeral, grave etc. We very much appreciate it as I am sure you had to deal with more questions than normal! You have been very kind, helpful and very good at helping with the masonry side also.
Mr and Mrs B – Little Baddow
Dear All, I am writing to say a huge thank you from me and all the family. You all are so tender and kind. The help that you all give at such a difficult time is worth more than gold, believe me. With heartfelt thanks.
Mr Harvey – Norfolk
I just wanted to thank you for all that you did to ensure the smooth-running of the funeral of my father. Everything went beautifully, as I was sure that it would. Those messages that you and Rev Rose and I shared filled me with confidence and that was well founded. Thank you also for the recommendation regarding the caterers. There wasn't a person there that did not seem amazed by the quantity and quality of the food. I know that mother was pleased how well it all worked out and she was anxious for me to also extend her thanks to you.
Mrs R – Cornwall
It was such a great comfort to me to know my son was being looked after by such professional people……..for all your help and support in dealing with the funeral of my son.
Mr D – Danbury
I would like to express my thanks for the way that Bakers conducted the arrangements for my mother's funeral. You and your staff were most considerate and helpful and I am most grateful.
Mrs North
Thank you so much for everything. We will arrange to pick up the ashes in the coming weeks.